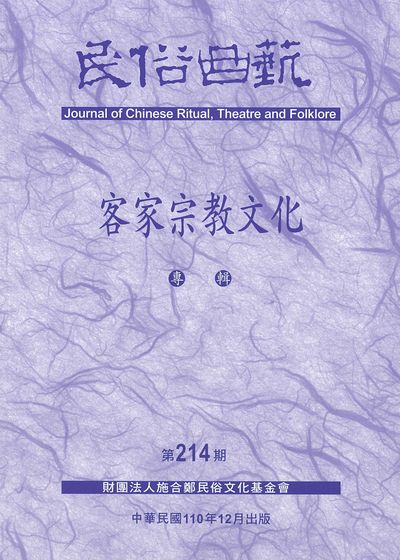 ---
About the magazine: 《民俗曲藝》雜誌創刊於1980年11月,原宗旨在於報導介紹與社區廟會相關之民俗曲藝,如子弟戲、布袋戲及陣頭等。1991年起將研究地域擴展及大陸,研究範圍增加宗教與儀式,研究視野進而包容整個文化現象,逐漸從一主要為報導的雜誌轉型為學術期刊。 自2002年3月起,《民俗曲藝》由雙月刊改為季刊,每年3、6、9、12月出刊。以嚴謹的編審流程,期許成為國際水準的學術期刊。凡有關傳統戲曲、曲藝、音樂、民俗、宗教、儀式之論文,調查報告及書評,均歡迎投稿
Brief introduction
本期內容簡介

【研究論文】
臺中東勢客家釋教的齋醮傳承:以龍華佛教會瑞德壇為核心
信仰與族群關係:以馬來西亞仙四師爺信仰為例
當信仰超越族群:1907年吉隆坡仙四師爺宮廟產訴訟案與當地華人權力結構的轉變
清代以來浙南石倉客家移民聚落的象徵世界

Author Profile
雜誌簡介

民俗曲藝

1980 年11 月創刊,原宗旨在於報導介紹與社區廟會相關之民俗曲藝,如子弟戲、布袋戲及陣頭等。1991 年起將研究地域擴展及大陸,研究範圍增加宗教與儀式,研究視野進而包容整個文化現象,逐漸從一主要為報導的雜誌轉型為學術期刊。自2002 年3 月起,《民俗曲藝》由雙月刊改為季刊,每年3、6、9、12 月出刊。以嚴謹的編審流程,期許成為國際水準的學術期刊。

Journal of Chinese Ritual, Theatre and Folklore

(Min-su ch'ü-i) was founded in November 1980, its original goal being to publish research reports introducing traditional theatre and folklore in local society. Since 1991, the Journal's scope has expanded to include Mainland China and examine a broad range of cultural phenomena, particularly religion and ritual.

Since 2002, the Editorial Board has worked to transform the Journal into an internationally recognized academic publication. It is now a quarterly, and is published every March, June, September and December. The Editorial Board welcomes submissions of articles, field reports, or book reviews written in either Chinese or English on the following subjects: regional theatre, music, folklore, religion, and ritual.